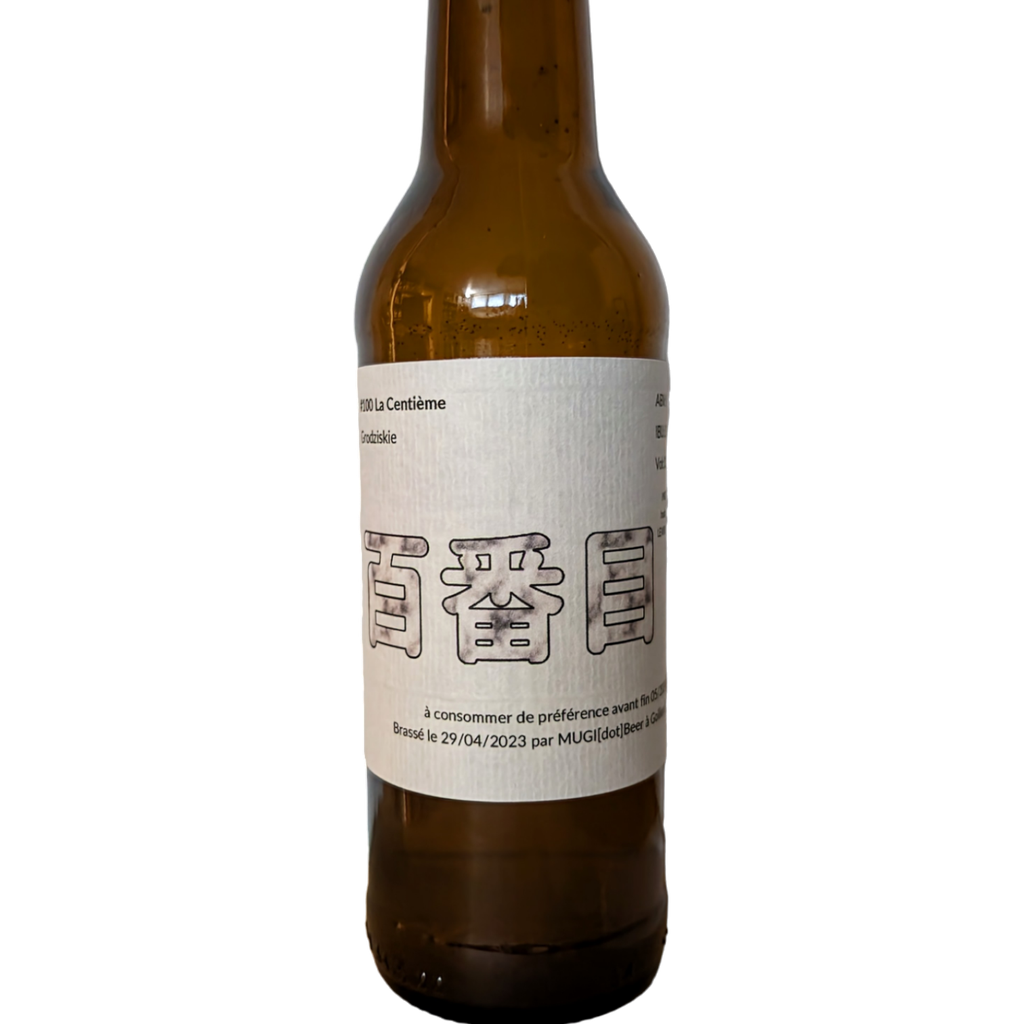 #100 La Centième
33.0cl
2.6%
Grodziskie
05/2024
Style

:

Wheat/Rye
Color

:

Paille
Brewery

:

MUGI[dot]Beer
Country

:

Switzerland
Format

:

Bottle
Taste

:

Smoked
Fermentation

:

High
DESCRIPTION
Introducing #100 La Centième, an extraordinary craft beer that embodies the rich heritage of MUGI.Beer in Switzerland. This remarkable brew celebrates our 100th batch with a flavor experience like no other. Step into a world of smoke and intrigue as the alluring aroma of #100 La Centième entices your senses.
Crafted using a unique brewing process, this Grodziskie-style beer is a testament to our commitment to innovation. Our master brewers have carefully selected Lubelski hops, renowned for their delicate floral character, to infuse this brew with a touch of elegance. The result is a harmonious blend of flavors that dance on your palate.
With each sip, #100 La Centième unveils its distinct smoky aroma, reminiscent of a roaring bonfire on a cool after-hike evening. The carefully balanced combination of ingredients imparts a gentle smokiness that envelops your senses, transporting you to a world of rustic charm and ancient traditions.
As the silky liquid caresses your tongue, you'll experience a symphony of flavors. Notes of toasted malt intermingle with hints of caramel, creating a luscious sweetness that mingles perfectly with the smoky essence. The low alcohol content of 2.6% ensures a sessionable experience that allows you to fully appreciate the intricate nuances of this exceptional brew.
Behind the creation of #100 La Centième lies a captivating anecdote. Inspired by the folklore surrounding ancient brewing techniques, our brewers set out to revive the traditional Grodziskie style. Drawing inspiration from the storied past, they blended old-world charm with modern craftsmanship, resulting in a beer that captures the essence of a bygone era.
Whether you're a seasoned craft beer enthusiast or a curious newcomer to the world of unique brews, #100 La Centième promises an unforgettable journey of flavors. It's a testament to our dedication to pushing the boundaries of taste and embracing the rich tapestry of brewing history. Indulge in this exceptional creation and experience the artistry of MUGI.Beer with every sip.
Raise your glass, savor the smoky aroma, and embark on an unforgettable adventure with #100 La Centième. Join us in celebrating this momentous milestone and discover why it has quickly become a treasured gem in the craft beer market.
INGREDIENTS
water
hops
YEAST
smoked WHEAT malt
HOPS:
Lubelski
YEAST:
K-97
BREWERY
No, I'm not a brewer.
No, I don't brew.
No, I can't follow a recipe.
And here I am with a hobby that takes more and more time and scope:
Here each beer is unique, brewed only once, some will be prototypes others will be moves of changes, and surely there will also be dissatisfactions. Ideally I only brew what I can not buy, with over the seasons KM0 ingredients, or on whims or according to my mood. And surely there will be room for unclassifiable beers but also for more "classic" things.

Your Dynamic Snippet will be displayed here... This message is displayed because youy did not provide both a filter and a template to use.