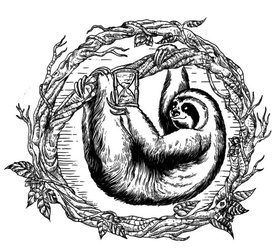 TEMPÉRATURE DE SERVICE

7° - 10°
Oude Luiaard
37.5cl
7.1%
Lambic/Gueuze
DESCRIPTION
Oude Luiaard is a sour beer made by blending our wild farmhouse Invernomuto with 18 month old Lambic from Oud Beersel.
The name of this beer literally means old lazy man in Flemish and aims to celebrate the meeting of our farm Brado, located in Italy, near Bologna, with the brewery Oud Beersel in Pajotteland, Belgium.
The illustration on the label shows the famous Beersel Castle - symbol of the brewery - against the background of a statue standing in the middle of the lake in front of it. This monument is inspired by the marble sepulchral sculpture of Putti (800) and dedicated to Anna Maria Ferreris (Flemish born in Brussels), present in the charming monumental cemetery of the Certosa, in Bologna. An allegorical representation of the inexorable passage of time - so dear to our refinements - the statue is highly symbolic, since it is dedicated to a Flemish woman who lived her life in the city of Bologna.

The zesty, wild freshness of Invernomuto beer - itself a blend of Piè Veloce Brux (brett beer) and Nessun Dorma (old season) - intermingles with the deep notes of Lambic, while the two souls find a rich union in the fruity, cereal and cellar components.
Elegant acidity and a rustic profile are the common thread between woody nuances and funky notes, while noble hops embellish the background taste with elegant bitterness.
The varied fermentation environment makes it an evolving beer that can be aged.
INGREDIENTS
eau
malt d'ORGE
houblons
LEVURE
HOUBLONS:
LEVURE:
BRASSERIE
CA' short for "Casa", House. Our cellar, the magical place where resident yeasts and
bacteria turn beer wort into Italian Wild Ales with a unique and unmistakable character.
BRADO has two different roots: Bradùs, a greek word for SLOW, as our beers
requires time and patience to be ready. Brado in italian means WILD, used for those
animals who live their life in the wilderness, as our yeasts do!
Découvrir la brasserie